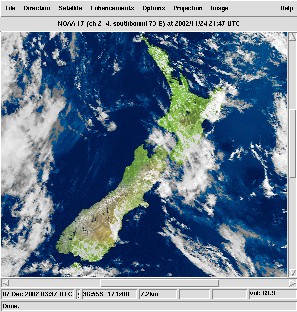 Download WXtoImg
You can download WXtoImg here.
Time Synchronisation Software
Software for keeping your computer's clock synchronised to an Internet time source (necessary to ensure that maps overlays are correctly aligned).
For Windows XP and Windows Server 2003:
WXtoImg has built in time server support on these platforms that ensures good accuracy.

See Options -> Internet Options (use pool.ntp.org and 15 minutes.)

For Windows 95/98/ME/2000/NT/Vista/7/8:


NTP best solution for keeping clock in synch for all versions of Windows (recommended install for Windows Vista, Windows 7 and Windows 8). NTP Installation Instructions.
Dimension 4 very simple to use time sync freeware for Windows 95/98/ME/2000/NT/2003/XP (set to sync on system startup, and every 900 seconds (15 minutes)).
Templates
Template Generator Use this form to build a custom template for WXtoImg to publish images to your site.
Basic HTML Template This very simple template uses only basic HTML and no JavaScript.
Palette / CLUT generators
WXtoImg PAL (Rajesh K, Smileware) Generates color palette files in the format in which WXtoIMG requires for processing Thermal, Sea Surface temperature and HVC enhancements. Called CLUT (Color LookUp Tables), these files are the source of information for WXtoIMG to set colors for temperatures while generating map). For Windows only (v2.1)
Latest Image
latest.php PHP Script to return the latest image: very easy to specify exactly what image is desired, based on satellite, enhancement, composite or normal, thumbnail or full-size.
Web Hosting
Free web hosting with FTP access for automatically publishing your images on the Internet:
Other Contributed Software
The following are links to other software which has been provided by third parties and has not been tested by us.
---
Copyright © 2001-2018. All rights reserved.